On May 14th Bill and I attended the 24th annual Vermont Businesses for Social Responsibility's Spring Conference in Burlington, VT.  Bill presented as a member of an afternoon panel session titled "Nature's Inspiration: Biomimicry and Biophilia as a Powerful Business Tool".  Other members of the panel included Dr. Stephen Kellert, Sarah-Lee Terrat, and Michael Dupee.  Together the panel painted a picture of the multiple facets of incorporating biophilic design into buildings, workspaces, and products.  The discussion focused on the wisdom and inspiration that we can find in nature to inspire and inform design solutions for today's evolving workplace; creating spaces that nurture, engage, and enliven humans.
Four points of view
During the panel session, Steve Kellert, Tweedy Ordway Professor Emeritus of Social Ecology and Senior Research Scholar at the Yale University School of Forestry and Environmental Studies, introduced the essential principles of biophilic design with national examples, including Herman Miller, Genzyme, and Google. As the leader in the field of biophilia, his introduction was reinforced by the other panelists' work and examples. Bill shared Vermont-based examples of our office which employ biophilic design, including the George D. Aiken Center and Seventh Generation Headquarters both in Burlington, and Renewable NRG Systems' offices in Hinesburg. Artist Sarah-Lee Terrat  described details of artistic representation of natural themes within buildings. She shared how she finds inspiration in nature and brings that to bear in her work which celebrates these biophilic themes and connections.  Michael Dupee, Vice President of Sustainable Innovation at Green Mountain Coffee Roasters, Inc, provided an introduction to biomimicry practice and related applications for businesses.
More on biophilia
For additional information on the topic please refer to our previous post, Finding Harmony: Biophilic Design & Environmental Design – which defines the term and provides further discussion on the need for biophilic design in our built environments.
Sustainable business enterprise
In addition to the afternoon panel session, our work was highlighted by keynote speaker, Alisa Gravitz, the Green America CEO and President.  Her talk praised local businesses in sustainable enterprise, products, and services.  She specifically cited Maclay Architects as an example and leader in the green building movement.
Maclay Architects also donated table space to the Vermont Energy Education Program (VEEP), who had a bike on hand to demonstrate energy required to power CLF, incandescent, or LED light bulbs.  The attendees were shy to use the bike, but eager to talk about energy efficiency, and we were thrilled to have VEEP as a booth collaborator.  While staffing our booth, I had many great conversations with attendees and talked extensively about office environments and creative options for work spaces showing examples from our work.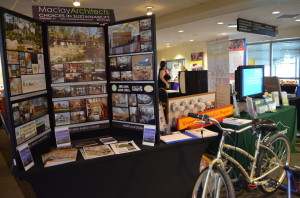 Photo by Chris Prado, VBSR Intern
Overall, it was a beneficial conference with rich discussion and interesting presentations and interactions throughout the day.  We are proud to be involved with VBSR, who continues to organize and draw energetic, inspirational, and innovative leaders to their annual spring conference.